The crazy, wonderfully amazing shit my dad did and a bunch of other things you didn't know about him.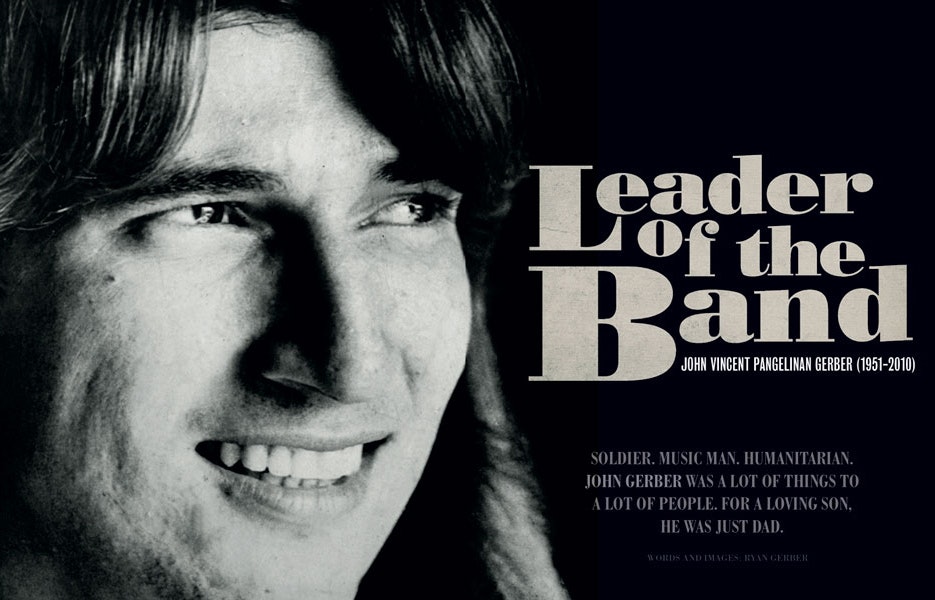 This article originally appeared in the October 2011 issue of Uno Magazine. Written by Ryan Gerber

When I was 5 years old I met my father for the first time.

I was terrified and confused and I just wanted to go back to where I had come from. I didn't know this family. I didn't know this island and I didn't know this giant with a mustache who was calling me son. I was just a scared kid, unaware of my surroundings or the complicated relationship of my two parents. And yet, there I was, fresh off of a flight from Honolulu and unable to make eye contact with this family of noses, called the Gerbers. This was my family and this was my induction.
The year was 1982 and the mustache belonged to a young John Gerber. Now, unlike most of the people on the island at that time, I knew very little about this man. I knew nothing of his time in Vietnam, or that he had a first wife that went by the name Nola and I definitely didn't know him as Johnny G, the polyester clad DJ of the Wireless Rock show on KUAM. To me, he was just a man who went by the name Dad. 27 Years later I buried my father. With me, was a slightly bigger family of Gerbers and an entire island of friends and family who all lost something on the morning of May 4th, 2010.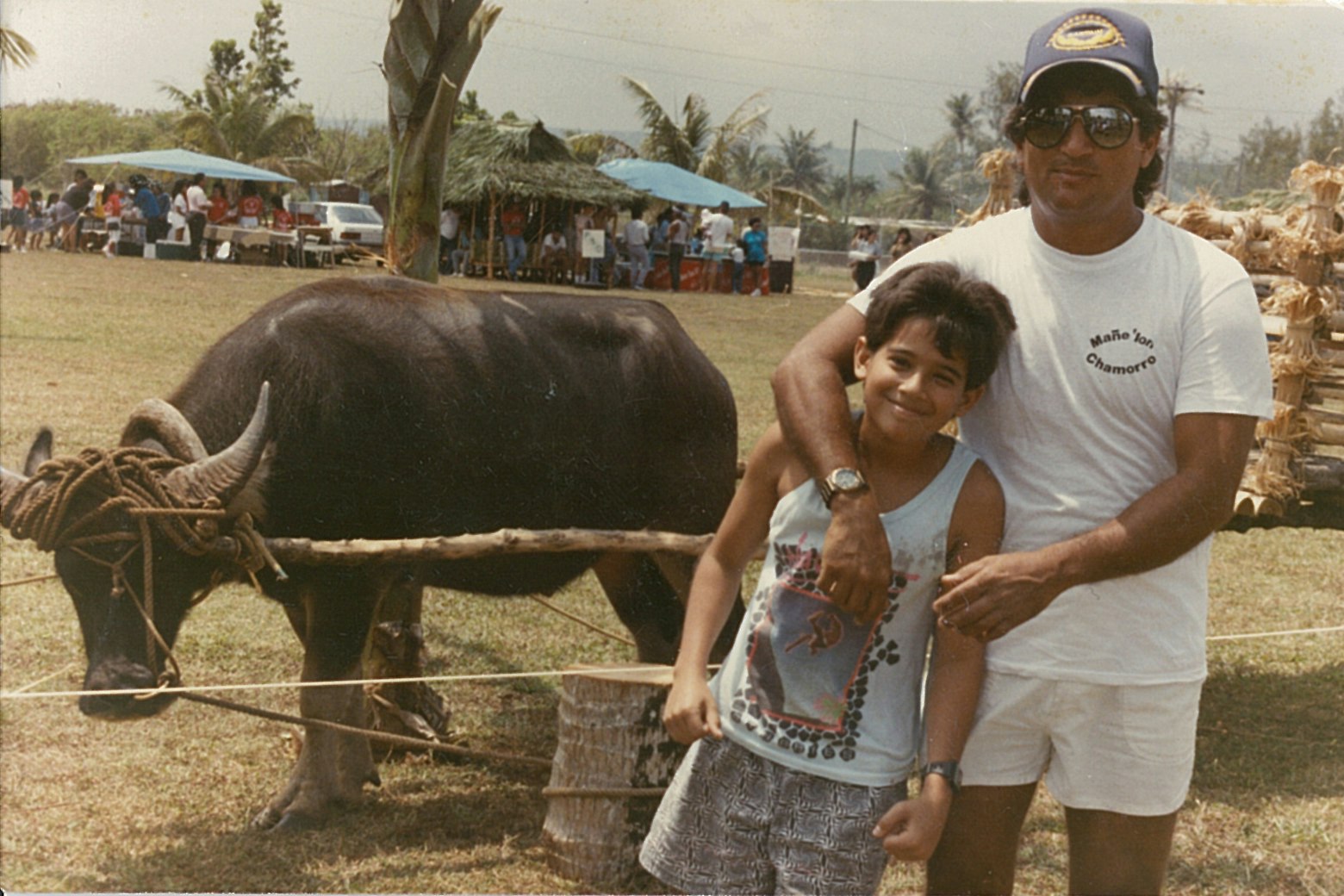 Over that stretch of time I got to know a lot about this man. A man who by every definition of the word, would qualify as legend. In fact, I've since heard many stories about my Dad and his long and varied legacy. Some tales were tall and others were quite touching. Some were ridiculous and untrue and some just needed to be told again and again. Which is my intention now, to shed light on a man, that so many knew in so many different ways. This is neither a reckless expose nor a blind tribute to an infallible myth. It's an honest account of a real man from a perspective that you might not have. After all, he played a big part in shaping who I am today … for better or worse. And this is my tribute. I should warn you. This probably won't be very objective. He was my Dad.
So where shall I begin? Perhaps at the beginning.

The Early Years
John Vincente Pangelinan Gerber was born on May 31st, 1951. He was the second child of six, that belonged to Martin and Delores Gerber. Many of you will know his siblings as Joyce, Wanda, Debra, Janet and Martin Jr. I know them as my aunts and uncle. I never met my Grandfather as he also died young at the age of 49. Though from what I can gather, he was a strict and particular man, who worked hard and had very high standards for all of his children. Judging by how they all turned out, i'd say this was a good thing. My grandma Lole, on the other hand, I knew very well. She was one of the first Gerbers to take me in and in a lot of ways, she was the glue that held our clan together. One of my fondest memories as a kid, was our Thursday night dinners. This was the one day of the week, that my Grandmother didn't attend church, so it was the one night of the week that the entire family got together. We barbequed and we made fun of each other and we acted the way most families do, only with a touch more sarcasm. And no matter what was going on in our lives at the time, this was a tradition we held sacred. When she passed away in 1990 none of us were the same and though he tried not to show it, neither was my Dad.
He developed his super power of persuasion and cunning, early on. Honing them on my Grandparents and my aunts first, before practicing them on the general population. As far back as I can remember, I've heard tales of my Dad getting people to do extraordinary things on his behalf. Mind you, part of his charm was his own work ethic, while the other part, was actual charm. He was no angel, but he was clever, so it was also better to have him working with you than against.

He had a way with words and a way with people, particularly women. This was reinforced by the name of his high school band, "Every Girls Friend" (Circa 1967). He played guitar and sang. You could probably argue that this was the non-official beginning of his "Wireless Rock" career, but we'll discuss that in a bit. Later, he would go on to teach me how to play the guitar, beginning with the song Rocky Racoon (off the white album) and it's safe to say that evidence of his personality is visible in all of his children. Which would include Christiana, Storm, Rio and myself (the eldest).

Yes. It was quite clear that my Dad possessed that little bit of "extra" that made him quite special.

Vietnam
In 1965 the US began deploying troops into Vietnam and in 1969 my Dad graduated from George Washington High School. He wasn't yet 18 when he walked into the recruitment offices of the United States Marine Corps, so he had to get permission from my Grandparents to enlist. They agreed and he joined. Not much longer after, he was fighting a war in a foreign land, not too far from our own little island.

The next few years between 1969 and 1971 probably did more to shape who my father became than any other period of time. It was also the longest amount of time that he spent off island.

As a kid, he was reluctant to share stories about his time in the marines with me. He'd occasionally tell stories of some crazy drill sergeant or vaguely describe combat, but I was young and though you couldn't really tell, his time over there had changed him, even more than he knew at the time. Much later, as an adult, I would come to learn more about his experiences and how they motivated him to create the Pacific War Museum and to become an activist for the young men and women who had died for this country and the countless numbers of young soldiers who were on their way to war, currently. His cause was clear and his purpose was just. On June 3rd, 1975, my Dad left the marines as a corporal and by the time he died in 2010, they had made him a Sergeant.

Wireless Rock
Now of course, directly after the war, my Dad was in his early twenties and still quite popular. So, he dusted off the polyester and went back to work at KUAM, which was across the street from our house in Ordot at the time. He had worked there as a kid, sweeping up around the studio and playing the occasional camera boy. So when the need for a new late night voice on the KUAM airwaves arose, it was a natural fit.
Even after I left the island in 95, I would occasionally run into stateside fans of JG and the Wireless Rock show. It was a funny thing to witness, but now I take a certain pride in it. I even remember one of my first nights on island, back in 82, sitting with my Grandma Lole and my Uncle Jr listening to the show in the old Gerber living room and getting my first shout out. It was cool then and it's pretty cool now.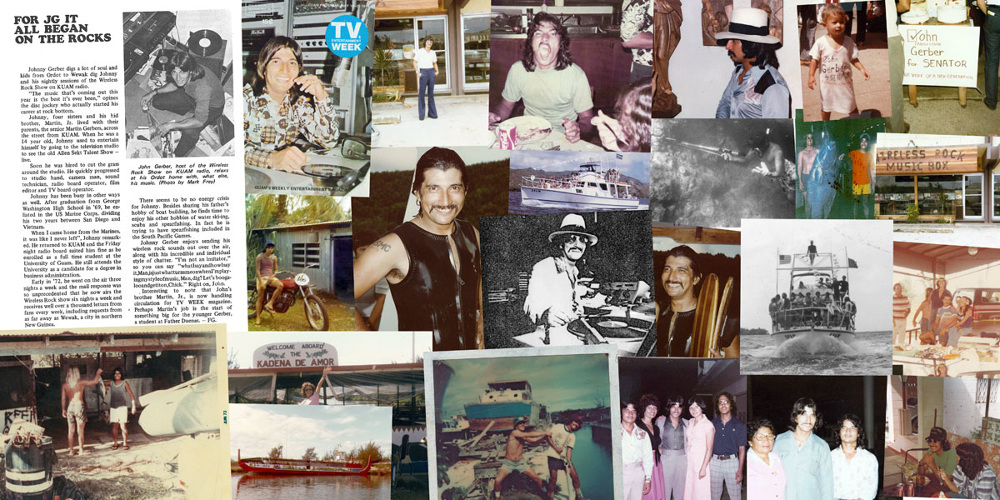 Those that were close to my Dad during this timeframe remember scores of young women hanging out by the station, loads of fan mail, polyester suits and lots of hair. It was also during this time that my Dad launched the Wireless Rock Music Box, his record shop which later became the source of my Uncle Jr.'s enormous album collection.

His show lasted eleven years, from 1972-1983. And by the time he wrapped things up, he had so many other things going on that it was a natural progression, though he still rocked a white vest every now and again.
The Kadena Years
During the Wireless Rock era, my Dad also began building boats … And how many of us have the privilege of saying that? Of all of his phases, this was probably my favorite. So much of it was spent on the water enjoying the island from a simpler perspective. Fishing, skiing and playing practical jokes on the tourists he would charter. To me, this was a golden era.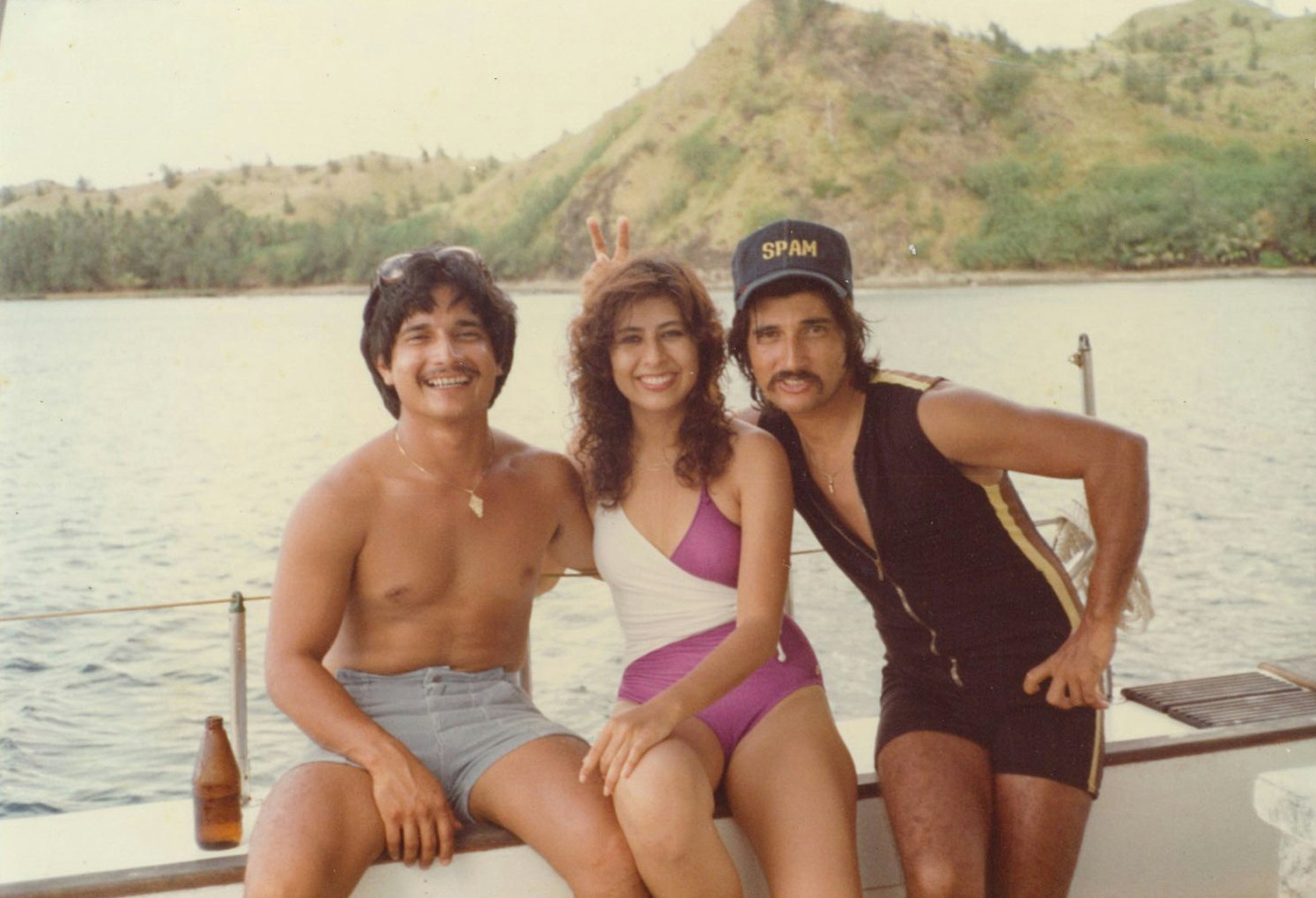 His first boat, was of course, The Wireless Rock, which from a marketing standpoint, you've gotta appreciate. This was followed by The Spam, which was followed by a cease and desist order from Hormel, which then resulted in a name change to The Chamorrita in 85. He also owned several smaller boats, such as The Wild Cherry and The Fotgun (which means wet, for all of you haole's reading this). His crowned jewel however was The Kadena De Amore, which he began building in 1983. It was quite an undertaking, and I am not exaggerating when I say that it had a full disco built right into it. Sadly, a tragic fire in 1986 resulted in the demise of the Kadena and the subsequent transfer of ownership of then, Cabras marina to what is now known as Aqua world Marina in Piti. Though I still hear people call it Gerberville from time to time.

On one charter, we had just docked and my Dad's good friend, who went by George Palau, caught an Iguana. It was big, maybe 6 feet. Though we warned him, he began antagonizing the reptile by mimicking his lizard tongue. The Japanese tourists were enthralled, but my Dad knew better, warning George "Buddy. You're gonna lose your tongue…". He barely finished saying that before the iguana lunged forward biting the tip of Georges tongue with such angry precision that we were all stunned. Tourists were freaking out. We were on the ground laughing (I know it's mean, but it was funny) and George was running around trying to pull this lizard from out of his mouth. Eventually he did and from that day forward, he had a more distant relationship with reptiles.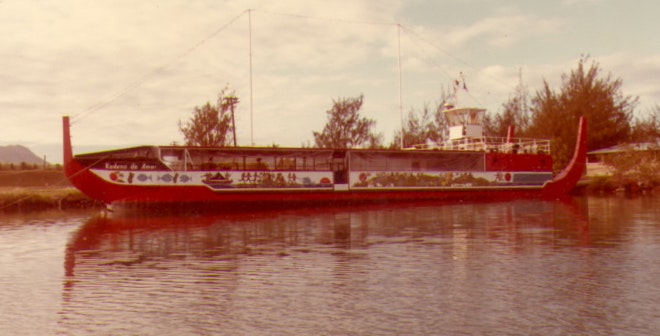 These were the types of stories I remember from this time and a lot of those people, I still see out on the water, whenever I come back home for a visit.

Senator Gerber?
The 80's were a time of experimentation for my Dad and while it is not a secret that my father was once the son-in-law of Ricky and Madeleine Bordallo, it is a lesser known fact that he also ran for office in 1986. You read that right. Always up for new challenges, my father ran, but ultimately failed to take a seat in the senate. There were lot's of reasons for this, and we can post-rationalize, but at the end of the day, I think we can all agree that it worked out for the best.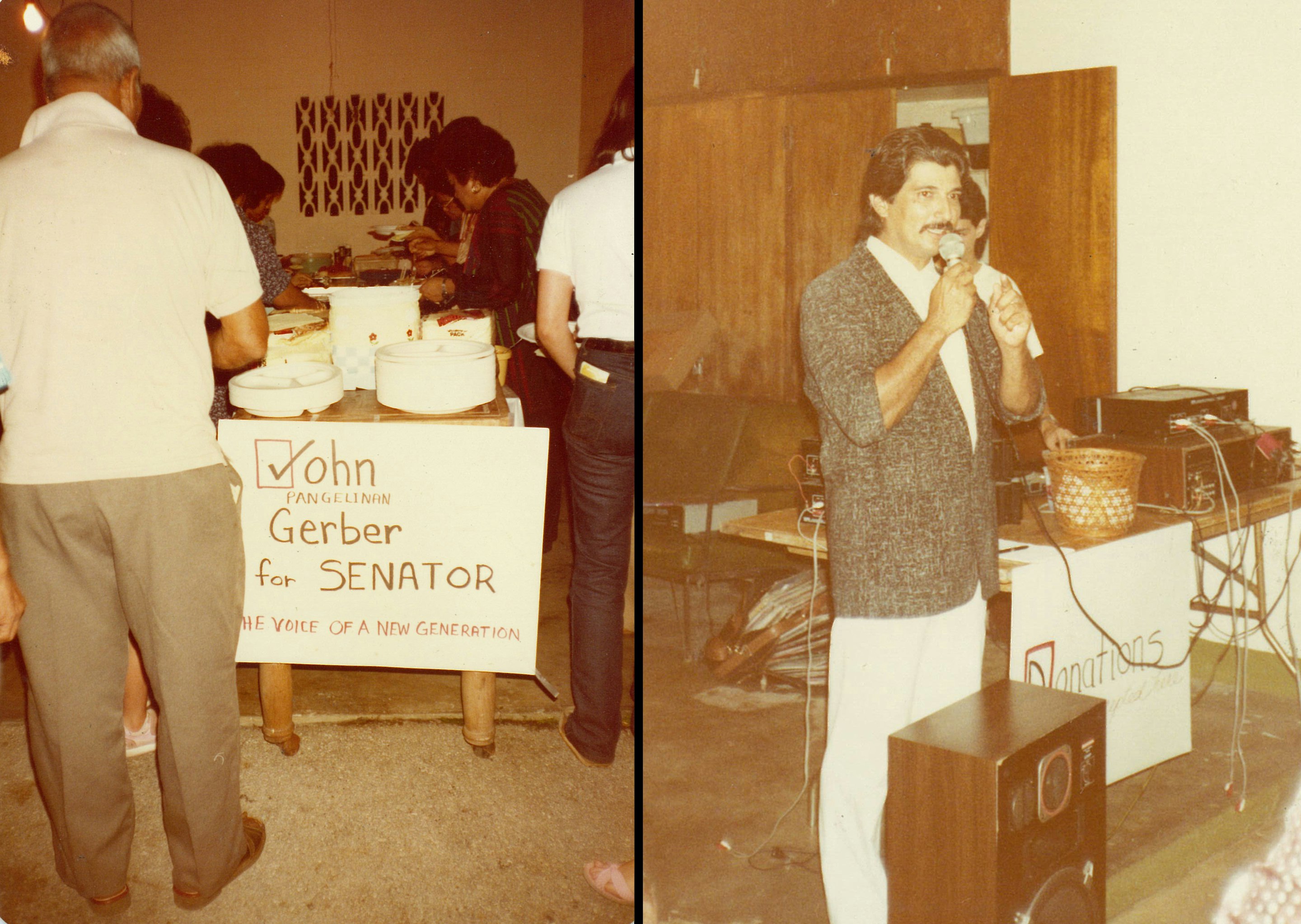 18 years later, my father pulled a giant billboard dedicated to the 1548 Marines that had died during the liberation of our island from Anderson Airforce base in Yigo to the Naval base in Apra, using a contraption he fashioned out of an old wheelchair and a carabao pull. He did this with the intention of changing the name of Marine drive to Marine Corps Drive as to never let us forget. Governor Felix Camacho officially changed the name on April 13, 2004. The next day. This was how he evolved his political prowess and this was probably the purest representation of how he did things. With passion and with a whole lot of sweat.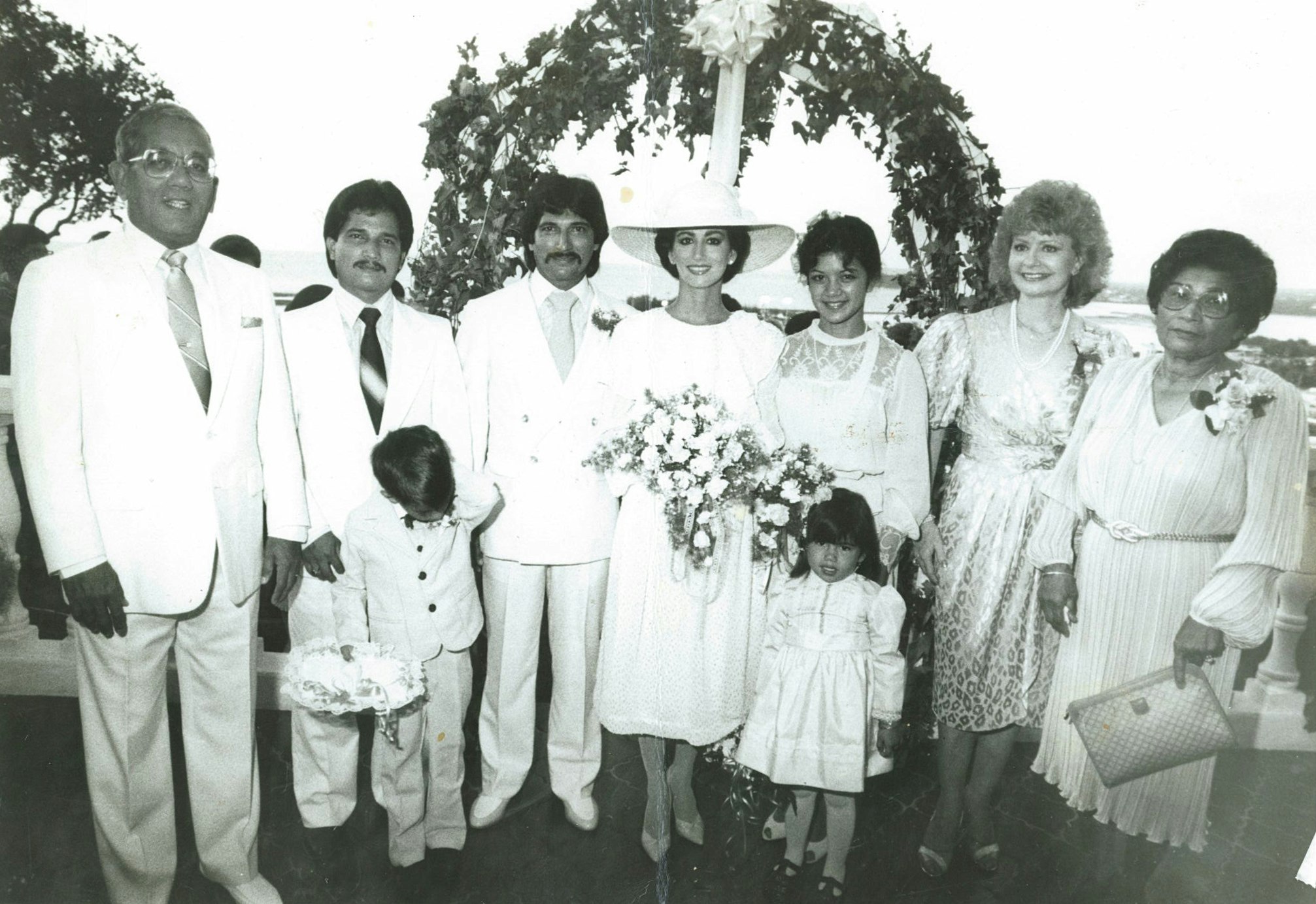 Gerber and Sons (+ Daughter)
By the 90's, my Dad had once again, shifted focus. First, at the tender age of 40, he decided to go to college and get his bachelors degree. His professors loved him and his young classmates thought he was the coolest freshman they'd ever met.
Second, he got heavy into what I like to call his Sanford and son years. Salvaging vehicles and doing some construction … basically, a whole lot of physical labor. By this point I had also grown my own (embarrassingly thin) mustache and was working for my Dad part time. He had named his company Gerber and Sons (a name my sister wasn't very keen on) and all I can remember is sweat. I'm not gonna lie. This was my least favorite time. I went from fishing and diving to sanding and welding. Not that we weren't doing any of that on the boats, it just had a less magical appeal and well, I was a teenager, so I had my own issues to deal with.

That being said. There were a few pivotal moments that came from this. On Memorial day in 1992, my Dad visited the grave of an old friend and fellow soldier Lance Corporal Rufo San Nicholas. He had died in Vietnam and on his tombstone he was still 19 years old. I remember my Dad saying "I was lucky. Guys came back and had no home, some were disabled or suffering some sort of injury and I barely had a scratch. I had a home. I had work and family. and Rufo …was still 19 and never got any of those things." This was the defining moment that changed everything for my Dad.
In 1994, My dad acquired his first APC. Now, for those of you unfamiliar with that term. He bought a tank. Also known as an Armored Personnel Carrier. He called it the Eve of Destruction and drove it all over Ordot. It's still on display at the museum as I write this. That year he also took part in the Liberation Day parade using the Eve of Destruction to haul a pre-war Chamorro house down Marine Corp Drive. From this day forward, things just kept moving in that direction.

This is also around the time that he developed his signature work look. Aviators, Boots and T-shirt, tucked squarely into a pair of jean-shorts. Anyone who has ever seen my Father toiling, out in the hot Guam sun will recognize this look.

In 1995, I left the island in pursuit of my own stories and adventures, but before I left, I went on one last adventure with my Dad. There were a bunch of us on this particular mission. My uncle Jr. was there as were my Dad's good friends John Camacho, Pete Siguenza (R.I.P) and Mike Guzman. A bunch of us. It was a hike deep down into the jungle to recover a Japanese Zero that had been shot down during the war. A fighter plane. We found it, but it was gonna be a challenge to excavate, so we left it with the intention of coming back for it later. And they did. 15 years later, my Dad went and recovered that plane. And this was the last thing my Father pulled out of the jungle before he passed away.

Semper Fi
In 2007 I came back to the island for the first time in 11 years. I didn't tell anyone I was coming, so I decided to play a prank on my old Dad. There had been a rash of break-ins in the village, so I asked my aunt to call him up and tell him someone was breaking into the house and that they had trapped her inside. He showed up with a bat and barely stopped the truck before leaping out of it. I of course waved the white flag and he laughed. "Son!" he said. "I almost killed you". He then gave me a big hug and told me to get in the truck.

You see, I hadn't planned on it, but it just so happened to be the 62nd anniversary of the battle of Iwo Jima. Turns out, a lot of the guys that had fought in that battle had also fought on Guam during our own liberation. My Dad was hosting a barbecue for the tour that was coming through, about 200 people, which consisted of actual vets, young soldiers and their families. This was at the first Pacific War Museum my Dad had built in Ordot and it was the first time I was seeing it.

I was proud of my Dad. He had accomplished so much with so little and here were all these people pulling together to honor these vets and to entertain these young soldiers who were about to be deployed for their first, their second and their third times. He was giving them advice and telling stories. It was inspiring. and it was a family affair. My Auntie Janet was pulling up with the red rice, my brothers were manning the traffic, my uncles and cousins and aunts were setting up tables and bringing in supplies. It had that same vibe I remember from those Thursday night dinners we'd had, so long ago at my Grandma Lole's house, just on a much grander scale. And now it was my Dad that was the glue. And his reach had gone far beyond our family. I later learned that he and his wife Mela, along with the rest of my family had fed and entertained thousands of troops over the years and my Dad's name had become synonymous with the Marine Corp on Guam.
Never before had I seen my Dad imbued with so much passion. And if you recall, that was never something he was short on to begin with. He had found his purpose and he was hell bent on making shit happen. We learned a lot about each other on that trip and in a lot of ways we were a lot a like, just in different ways. It was a good trip.

The words Semper Fidelis will forever be attached to the name John Gerber. It's meaning, Always Faithful is tantamount to his dedication to his family, to this island and to his beloved Marine Corps. In 2007, on a surprise trip home I finally got it. That was also the last time I saw my Father in person.

This past April, the family came together once again, to honor my Father and to help raise money for his Pacific War Museum, now situated in Maina. They held a memorial 5K run/walk. It was an amazing tribute to what my father had worked so hard to build and what my family was now working so hard to keep going.

Family Man
In the end, his most important role, was his role in the family. As a Dad, just like with everything else, he had his phases. For me, being the eldest, he was tough. My grandfather was tough on him and so he was tough on me. I mean, I don't know many other kids whose list of chores included changing the tires on an industrial forklift. He worked me hard and at the time I wasn't so happy about it. Of course, I never made things easier on myself, as I had yet to learn how and when to pick my battles. So, we butt heads. Over the years I've come to appreciate the work ethic he instilled in me. And those that were close to my father know that he worked himself harder than anybody else. More importantly, when it counted, my father always came through, especially for his family.
When I came back in 2007, he had clearly changed. I even joked about how I didn't recognize him. He was a mellow Dad, more patient with my brothers and definitely less strict. He was actually a blast to be around. Not that he didn't still put them to work, on occasion. Just less so. My sister Christiana, had also known the tougher side of our father, but had witnessed the shift on a more gradual scale, as she came back home more often than I did. Liberation day also became a special time that her and my brothers Storm and Rio got to share with my Dad and partake in his work.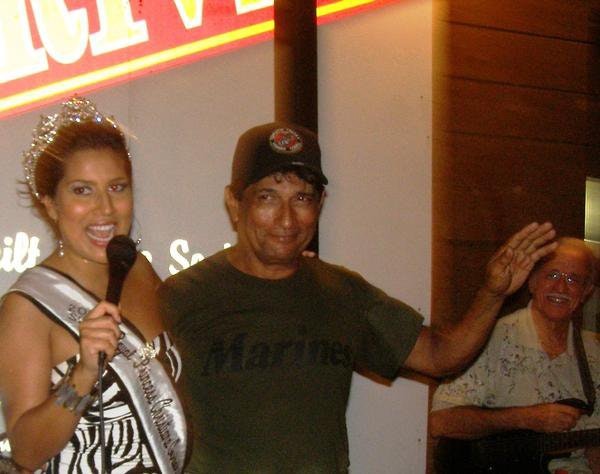 For his wife Mela and all of my Uncles and Aunts, my Dad's attitude and passion was infectious. This is evident in everything they've done since my father's passing. It's actually quite astonishing to step back and see not just what he's created, but what he's inspired in the people who loved him.

Goodbye
It was around 6pm, when I got word that I should call home. I was watching TV and waiting for my dinner to be delivered. It was meant to be a quiet night and in a strange sort of way, that's exactly what it became. You see, I was living in New York at the time, so that meant it was around 6am on Guam. I had finally gotten a hold of my Auntie Janet. She was at the naval hospital and in the next room, they were trying to revive my father.

She was inconsolable and passed the phone to my cousin EJ, who took on the unenviable task of relaying what was happening as it happened. All I could do was pace. Alone in my apartment, on the other side of the globe, I paced and I paced and I listened and I asked questions and I tried to remember the last conversation I had with my Dad who was now unconscious in a hospital room 7,958 miles away from the room that I was in. and I could do nothing.
I heard the cries and I didn't even have to ask … but I did anyway. And just like that, my Dad was gone. It had been about 6 months since the last time I had called home and 3 years since the last time I was on island. And that was the only thing I could think about for the rest of the evening. I called my sister who hadn't yet heard the news and then I called my brothers. I sat there and I watched the sun disappear and then I booked a ticket home.

There is a lot that can and has been said about my Father. But that's true of most great men who are worth talking about. And in the end it's these stories that keep him alive.
The last words that my father said to me, on the last phone call I had with him were simple. "I love you son" and my reply is how I will end this article. "I love you too dad. I'll see you soon."